"...It is a provocative and challenging book for anyone questioning the existence of God."

- William J. Vanarthos, MD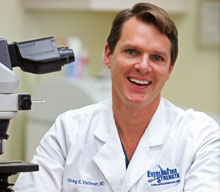 A Successful Physician
Makes The Most Startling
and Unexpected Diagnosis
of His Life.
Unsettled by the mysteries of purpose and destiny, Dr. Viehman takes the reader on an emotionally palpable and transforming journey through cynicism, skepticism and discovery. The God Diagnosis is a detailed and compelling testimony of a skilled surgeon who himself undergoes a "heart transplant.
This book is filled with wonderful anecdotes and real life experiences. You will find yourself immersed in the personal struggles Dr. Viehman confronts as he searches for the truth. He relates them in a way that will resonate with anyone seeking the facts and examining the evidence for themselves. Dr. Viehman uses his medical mind to come at these issues in a profound way that is striking, refreshing and fascinating. He is vulnerable, transparent and has the utmost integrity as he sorts out fact from fantasy. The God Diagnosis is a must read for everyone.
Watch Dr. Viehman's Testimony with CBN